The Truth about Microblading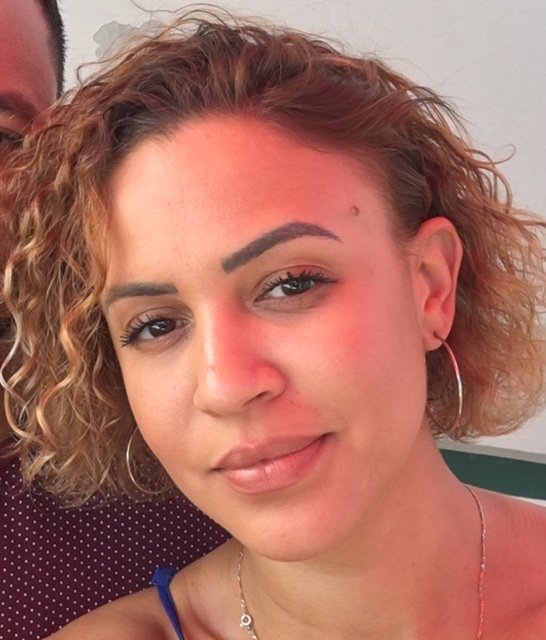 Microblading is a currently huge beauty trend. It is in such high demand in Los Angeles that it takes 4-6 weeks to get an appointment. I recently decided to get my eyebrows microblading and I wanted to share the truth about microblading.
I've always had two different eyebrows. One is higher and thicker, but both are short. My eyebrow hair is light and not very visible. I would always fill my eyebrows in, but by the end of the day the ends would smudge off.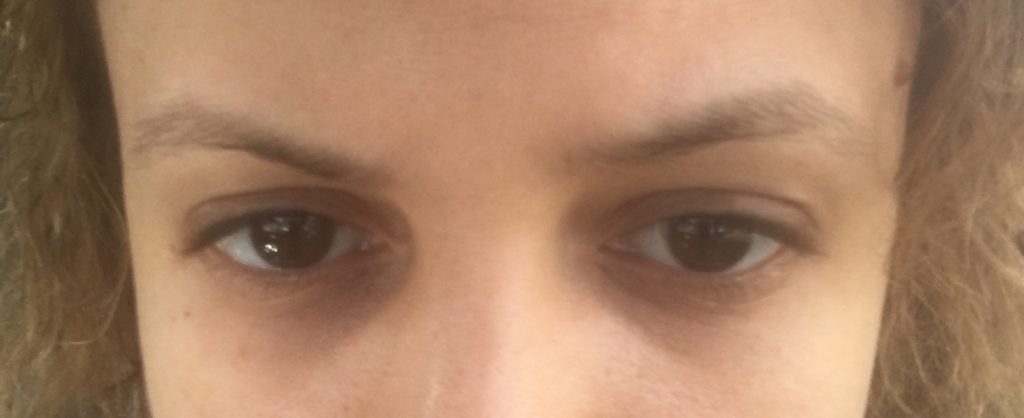 My perfect eyebrow is thick and square. Not too perfect (there's beauty in things that do not have symmetry) and full. Borderline bushy…like I just woke up and barley had time to fix them. Unbothered. Now I know this may not be everyone's go-to eyebrow style, but this is what I like.
I had friends and colleagues that got their eyebrows microbladed. It seemed cool but unattainable, because again…I don't like to spend much money on myself and I knew it had to be around $300 – $500.
Well one bright Sunday morning I decided to go on Groupon. I was searching around and found a session for Microblading for under $150. With my Groupon coupon, I would only have to spend $100. I read reviews about the company and decided to go for it. I told myself, that if I felt that something was wrong, I was just about to leave and get my money back; so, I bit the bullet and bought the Groupon.
The next day, Monday, I made the appointment and was able to get one for that Friday which is super fast in Los Angeles.
That Friday, I went to my appointment. It was in one of those rental beauty studio spaces. It was a small room with way too many people in it, but I paid only $100; so, expecting the spa treatment would be asinine. Upon my arrival, a lady with a super thick accent slapped cream on my eyebrows. Afterwards, she explained it was numbing cream. This made me uncomfortable, but I saw a couple people that she was working on and their eyebrows looked good; so, I decided to stay.
There wasn't a consultation or explanation of the process. I actually had a picture of what I wanted and I made sure that I showed them the picture – which changed what they were going to do. She also told me that she could not do it as light as I wanted them, because the ink would barley show. I thought that this was strange considering that I've seen blonder eyebrows on Instagram. Thankfully I like a good strong eyebrow. I decided to keep on going with the process.
I usually have a high pain tolerance; so, I was shocked how much it actually hurt. There were two people that worked on my eyebrows. That was strange and made me a bit uncomfortable, but there was another lady in the room getting her eyebrows done and I already started.
Without them stopping and starting, the process probably took a total of 25 minutes. When I was done, I ran out of there so fast that they lady had to follow me outside to put the cream on my eyebrows. The weeks to follow- I barley scabbed and I always kept it moisturized. The first several days, my family members were scared for me because they look thick and dark in shade(LOL!). I assured them it would fade.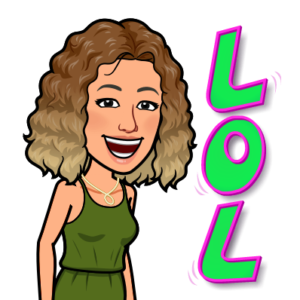 My second session was free; so, I went back. The pain was intense, even though I started numbing over an hour before (she gave me the cream to take home and apply for the next session). I repeated the moisturizing process afterwards.
I went to my third session wondering why I was there, because my eyebrows looked pretty good (she gave me another free session). She and her partner applied a lighter color, but honestly it was a waste of time and three weeks later I am still waiting for them to fade. I think her partner's skill level of making strokes is not up to par. He actually did more to my eyebrows this time around. They look good, but darker. My brother says that they look tattooed now. 
I do like my eyebrows and I feel more confident about not wearing makeup now. I will go somewhere else to get them done next time, but I do not regret where I went to go get them done, because I probably would have never gotten them done…being so cheap. I definitely recommend this to anyone that does their eyebrows on a daily bases.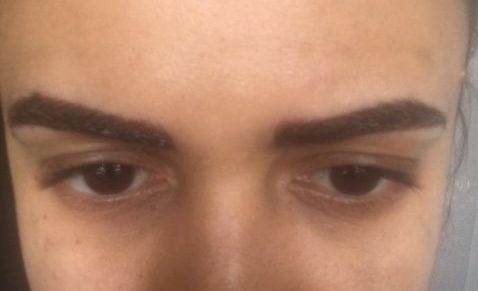 The layman's definition of Microblading:
A semi-permanent tattoo of eyebrows applied with a microblading razor blade that usually lasts between 1-3 years.
Application Process:
A certified technician will outline the eyebrows and then proceed to fill in and trace around the outline with a microblading blade. It usually takes between ½ hour – 1 hour for the actual process to occur. The technician will stop periodically to let the ink soak in. Afterwards, the technician will advise how many sessions the client may need. If your eyebrows looks spotty it is because the way your skin took the process. This will be resolved in the sessions to come.
How to prep:
Do not take ibuprofen or any other blood thinners before your session. This will cause more bleeding. Make sure you have enough coconut oil or suggested cream to apply the days afterwards. Make sure you find a picture of eyebrows that you like. It is easier for the technician to follow a picture.
Your session:
Arrive on time. The techician will give you a numbing cream that you will want to have on your face for the recommended time.
Brace for impact…some people have felt intense pain, while other do not. It depends on the numbing cream.
Make sure you check your eyebrows when the technician asks. This is the time to alter any shading or lines. Do not stay silent and then say something later…you will regret this.
Afterwards:
The technician will tell you how to take care of it. Make sure you apply the cocoa butter every couple of hours. *Tip use vitamin E too, alternating between moisturizers. Do not get your eyebrows wet until 3 days after. Do not let your eyebrows in the sun…it will fade.
Your second session:
Around 4 weeks later, most people go back for another session to fix any stroke that didn't take or to add strokes in a different direction. Coloring can also be fixed. The second session will hurt more than the first since it is revisiting stokes from weeks prior.
After this session, your technician will advise if you need another session.
Afterwards, apply the cocoa butter every couple of hours and use vitamin E. Do not get your eyebrows wet for at least 3 days after. Do not let your eyebrows in the sun.
Your 3rd session:
If you have to go back for a 3rd session, then this will be the perfecting session. This session will hurt the most; so, you really want to get it right.
Afterwards, repeat the process of moisturizing.
Tips:
Research the company or person you choose. In the state of California, all you need is a certificate; so, this does not mean that they are beauty experts.
Have a picture of what you want. Don't expect your technician to guess.
Make sure you plan stay out of the sun and to not get your eyebrows wet for about 3 days. Try to wear a hat all the time when you are in the sun.
Boss Tip:
Love beauty? Get your license and start making extra cash with Microblading.