The Breadless Breakfast Frittata Sandwich
No Bun, no problem... here is a recipe for a bunless egg sandwich.
As someone that is allergic to gluten, I am always searching for something that will replace bread. A Frittata is the Italian version of the American Omelette. It can be a nice substitute for a bunless egg sandwich. 
Here is my recipe for the breadless breakfast sandwich that is gluten free and can also be made for vegetarians.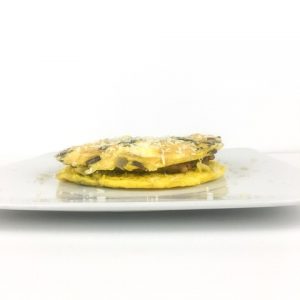 Breadless Breakfast Frittata Sandwich
Breadless Breakfast Frittata
Ingredients
2

Eggs

Per Side (If you are making a whole sandwich you will use 4 eggs. If you are using a tiny saucepan use 1 egg per side)

1/3

cup

Veggies

(Ideas: Mushrooms/ Peppers/ Onions)

Handful

Spinach

(Please note that Spinach shrinks a lot when cooking)

1/4

tbsp

Olive Oil

Or use a non-stick pan

Salt and Pepper

To taste
Instructions
Heat the Olive Oil in a small saucepan on Med (the olive oil will aid with non-sticking) (the size of the saucepan will be the size of the breakfast frittata sandwich.

Once the oil is hot put in vegetables and saulte´ to liking (usually about 1.5 minutes when the vegetables get translucent).

Turn the setting of the pan to low and wait another minute.

Crack 2 eggs in a bowl and whip together (salt and pepper to taste).

Make sure Vegetables are in the middle and away from the edges of the pan for the shape of the egg frittata.

Pour the eggs into the pan.

Cover with a lid so the steam cooks the eggs.

Check your egg after a minute to see if the top is cooked.

If you like a crunchier egg flip the egg. Before flipping, make sure the bottom of the egg is set, this way it will not break. Use a spatula (that is meant for the heat) to aid in flipping the egg.

Repeat recipe for the other side.
Notes
Saute´the vegetables for both side at once to save time.
Add ground turkey/Canadian Bacon and cheese to your egg. Add cheese to the egg mixture before cooking if you like cheesy eggs.
This recipe is gluten free.

Notice: Undefined index: tag in /home/customer/www/myunboundedlife.com/public_html/wp-content/plugins/recent-posts-widget-extended/classes/widget.php on line 109